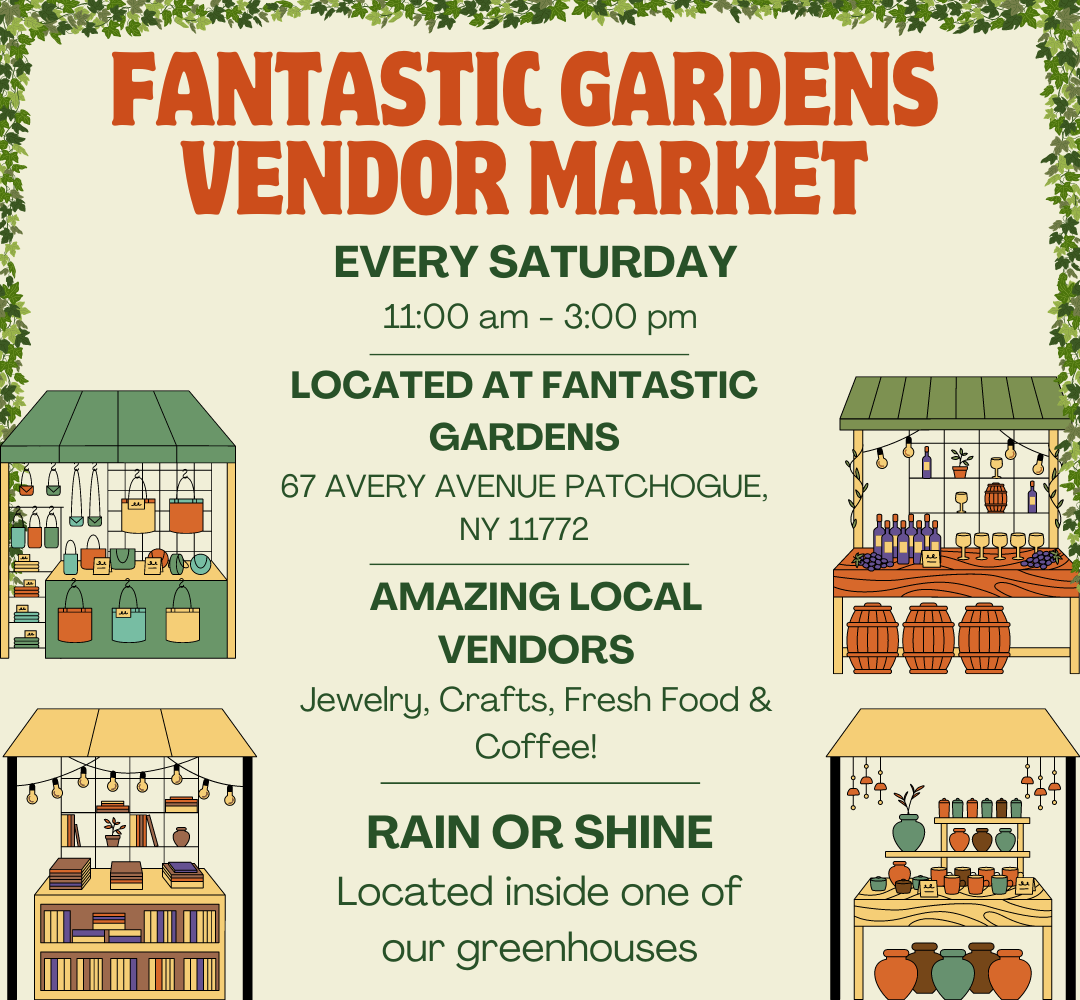 Our Vendor Market
We are reopening our Vendor Market October 7th, 2023 it is the first Saturday of October from 11am - 3pm!
Sign-up sheets are NOW AVAILABLE! You will be able to access via Instagram, Facebook, and here!
Feel free to email us any questions you may have, be sure to check the FAQ's first!!
Sign up to be a vendor HERE!
Answering your FAQ's
What is the requirement to be a vendor?

You must have vendor liability insurance!

How much and what is the size of the space?

Each space is 10ft x 10ft and is $40 a day!

You will be asked to pay the morning of your scheduled market.

Where can I sign up to be a vendor?

We ask that you fill out our sign up JotForm which can be found in the following places:

-On Fantastic Gardens website under the 'Our Vendor Market' tab (where you are right now!)

-Link in our Instagram bio

-On our 'LINKS' highlight on our Instagram

When is the vendor market coming back?

Our first market will be October 7th from 11-3!

Be sure to fill out the form for early sign ups to get the sign up sheet within the next week!

When and where is the vendor market?

The market will happen on Saturdays from 11am - 3pm at our Patchogue location- 67 Avery Ave, Patchogue 11772.

How do I know I will be the only vendor with my products?

It is a first come first serve basis, whoever is first to sign up will get the space for that day. We will reach out if a vendor signs up after you with a similar product to see if you feel your sales will be affected!

What type of advertising/social media marketing will be done ot bring shoppers in?

We have a dedicated Instagram & Facebook account to post vendor spotlights, event flyers, & day of market posts! Be sure to follow and share our pages!

Any local business sponserships or incentives to help increase traffic to the locale?

We don't currently have any business sponsorships. We would be interested in doing this in the future but as of right now, we do not have any planned.

Any cross-marketing/cross-promoting with vendors to help them build their businesses?

We plan to do collaboration posts on Instagram/Facebook for those vendor spotlights & posts leading up to the markets. We will create flyers & story posts that we will share weekly to vendors that are signed up. We are not responsible for vendor marketing outside of our market or events.